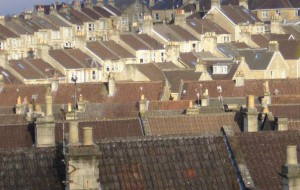 A study considering the options open to the Council for regulating and controlling the future growth of Houses of Multiple Occupation (HMOs) within the City of Bath (including university student house shares) has been undertaken.
We know that many people have questions about the potential impact of such controls so we have prepared a HMO Questions and Answers section on this website.
A range of options have been identified by the Council which include:
Planning Controls to curb the increase in Houses of Multiple Occupation. Including the use of an 'Article 4 Direction' to trigger the need for a planning application when changing use from a family home to a small House in Multiple Occupation (with 3-5 unrelated people living together). A new Planning Policy would need to be introduced alongside this.
Extension of licencing by Housing Services to increase regulations and standards existing and future Houses in Multiple Occupation.
The Council has held a Stakeholder workshop in October 2011, click here to view a report of the workshop.
The issue has been considered by the Policy Transport & Environment Policy Development & Scrutiny Panel Report on 6th December 2011, click here to view the report.
Both the Development Control Committee and Cabinet are due to consider the options in March 2012. As always, please let us know your views on this subject.